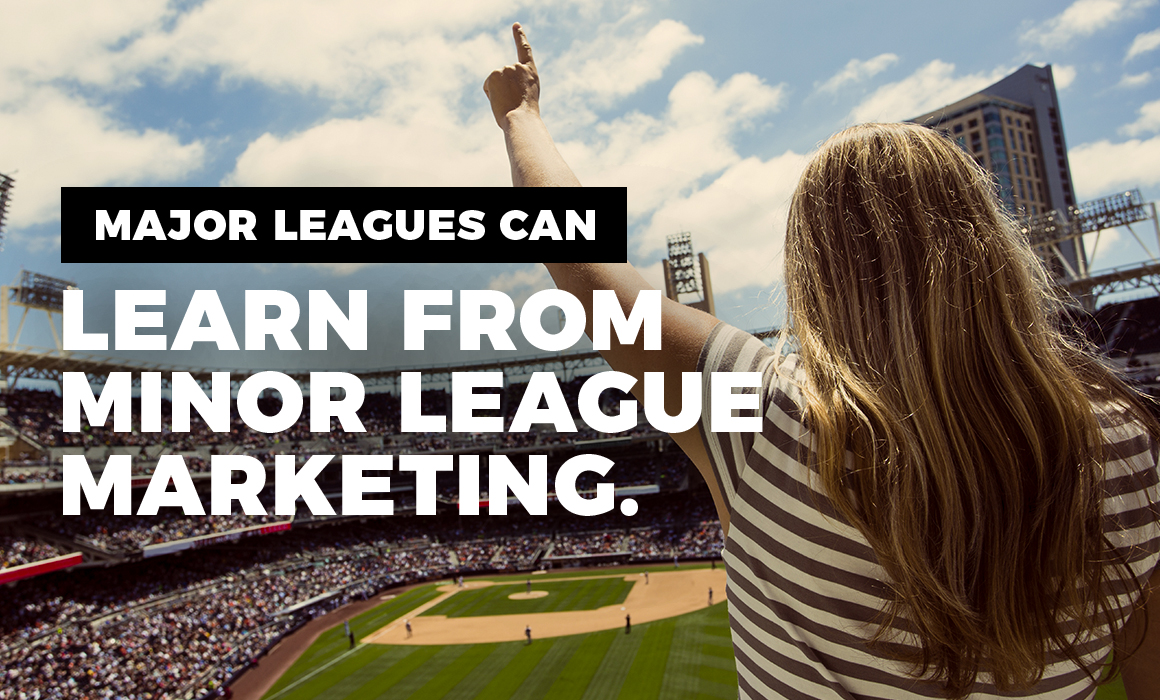 3

minute read
The average cost for a day in the ballpark for two people is just over $75. This includes tickets, hot dogs, beverages and parking to a major league baseball game. While some professional sports and MLB teams do a great job offering lower ticket price options, the teams ultimately rely on the star power of the players, the excitement of current events and the team's winning record to drive ticket sales and attendance.  
But what happens when the team starts to lose, the players get in trouble or become irrelevant or none of your friends are posting selfies from section D210? With many entertainment options, how can you get a family to spend money to attend a professional sporting event versus watching at home or attending another activity? In 2017, Nielsen reported a rating increase of 10 percent for ESPN's Sunday Night Baseball. That same year also included the third straight season for total attendance decline.  
Major league teams – pro franchises in all sports, really – are starting to grapple with the same problem minor league teams have faced for years and that is that they compete with literally everything else there is to do.  
Festivals, parks, museums, movies, streaming services, video games and not to mention other sporting events. In a hyper competitive entertainment landscape, teams have two basic options to drive ticket sales. One option is to lower the ticket price, but this also decreases margins and total revenue. The other option is to add value to the experience. This is where major league teams can learn from their minor league affiliates.
>> Download our case study to learn how we helped the Indianapolis Indians set attendance records year after year.
Customer service
The consumer's expectation these days for almost all products, services and experiences is centered around convenience and friendliness. This includes easily accessible parking, mobile ticket or easy box office access, and a variety of affordable food options served with a smile. 
Personal fan appreciation
Customer loyalty and concierge programs are an extension of basic customer service. When your season ticket representative remembers your birthday, when an usher notices your kids and asks the mascot to come over for a meet and greet, or when you get upgraded to better seats or a suite just because you're a regular, your emotional attachment to the team, the facility and the people who work there is deepened. 
Promotions and deals
Family fun packs that bundle tickets with food, character nights, movie screenings or dog-friendly events are all ways to entice different fan segments to come to a game. Your organization could do worse than to study the Indianapolis Indians. Promotions for 2018 included Friday Night Fireworks, Dollar Menu Nights, Thursday Craft Beer Night and even Yoga in the Outfield where fans could participate in a yoga class before attending a day time game. It's not hard to determine why attendance numbers for this team are among the highest in the league, averaging more than 8,500 per game – putting them just behind some major league teams playing in ballparks more than twice as large. 
You could argue it might be wise for the majors to take a few cues from the minors. 
Let's talk about how Borshoff can help you sell more tickets. Email me or call 317-631-6400.