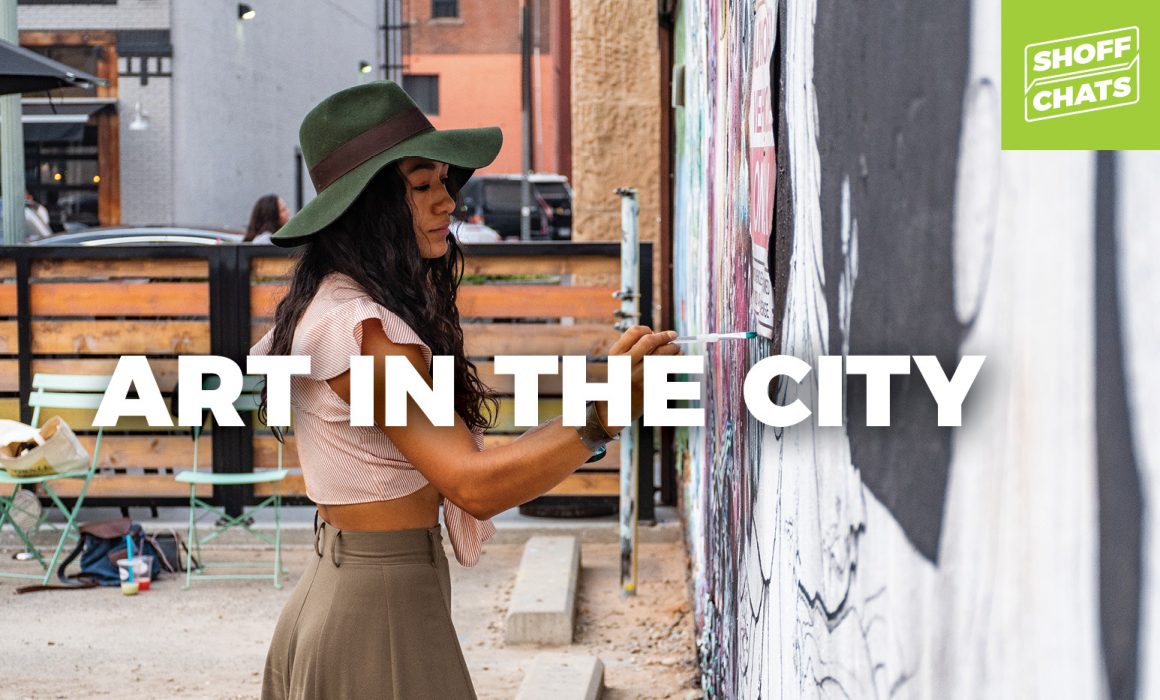 2

minute read
Public art, placemaking and the use of art in business settings are not new concepts but in recent years, a new push to include diverse artists in these efforts and deeper integration of the arts into the community has emerged. It's a trend arts community leaders and artists alike are celebrating. But greater use of art in the community has real impact for brands who embrace the trend, too.
Our recent Shoff Chat guests shared trends and benefits that art brings to our city, our artists and our businesses. They included Julie Goodman, president & CEO of the Indy Arts Council, Faith Blackwell, photographer and mixed media artist, and Aaron Scamihorn, senior art director at Borshoff.
Some of the key takeaways:
Indianapolis has a vibrant and integrated art scene. Several public art projects are examples of public/private partnerships that are coming together to put local artists at center stage, including the NBA All-Star Hoosier Historia project, the Gainbridge Fieldhouse of the Future renovations, and the extensive collection of art curated at the Indianapolis International Airport over the last decade.
If you're interested in incorporating art into your business, you'll get the best result by giving up some control. Artists want to deliver on the client's mission but giving the artist some creative license will ensure their style and talent come through. Finding an artist who already produces work that is in the style you like and fits your vision will ensure a good partnership, so research your options and look to partners like the Indy Arts Council to connect you with artists.
We can all support the arts in two critical ways that benefit artists as well as ourselves. First, ask yourself how you personally are involved in the arts – especially from a health and wellness perspective. You can take classes and find enjoyment in art that makes a difference for your own wellbeing.
Second, buy local art. Artists need financial support from those who admire their craft, and there's no better way to show support than to purchase art. First Fridays are a great way to connect with local artists in the Indianapolis area. The arts bring life and vibrancy to communities, but they also provide a connection for brands – from community relations and employee engagement to marketing storytelling, art makes connections that bring value.
Looking for a communications partner who can help you make connections? Let's talk.
Listen to this episode or past Shoff Chats episodes here.