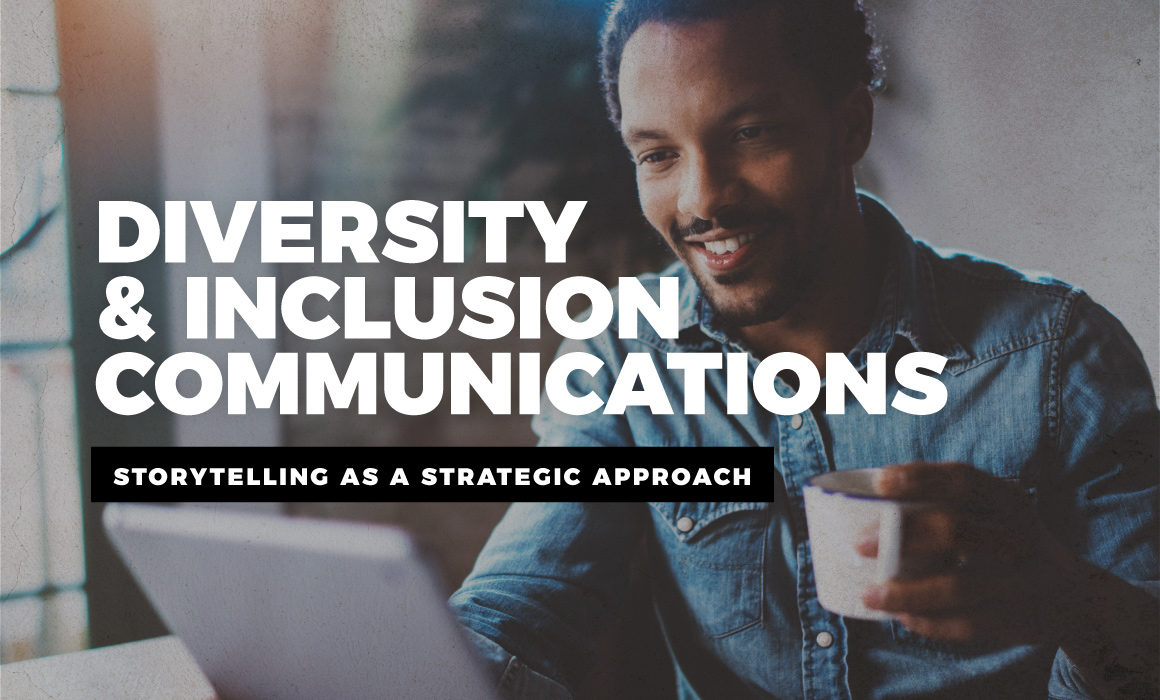 3

minute read
We talked about the importance of authenticity, connection and empathy for diversity and inclusion communications in our recent blog post. Now, let's dive more deeply into the use of storytelling as part of a successful diversity & inclusion strategy.
Why storytelling? Simply put, storytelling works because it overcomes pervasive challenges around capacity and human connection. And because telling candid human stories with integrity is at the heart of any effective D&I effort, this approach is especially powerful. As you consider your own strategy, here are four things to keep in mind.
You've Got Five Minutes a Day
When it comes to effective communications around any priority or initiative, much of success boils down to capacity. We live in a world of too many messages and simply don't have the capacity to consume and absorb the daily deluge of information coming our way. Reaching employees boils down to approximately five minutes of time each day that they're willing and able to consider new information – your D&I communications included. You have a small window of time to "break through the clutter" and engage people. Storytelling is the most meaningful way to
do this.
Traditional Channels Aren't That Effective
If time wasn't a big enough challenge by itself, it's compounded by the fact that employees aren't likely to use their five minutes on traditional channels – like the company intranet – to proactively seek out D&I information in the midst of their day-to-day work. You'll need to do something disruptive, either with your selection of channels or with your content, to engage employees in a way they aren't necessarily expecting. The value of storytelling to positively disrupt habitual ways of working and thinking can't be understated.
We Are Programmed to Respond to Stories
The issue of time is further compromised by challenges around meaningful connection. In today's digital reality, where literally anyone can send out "stuff," we are all looking for more value in the form of information that actually compels and resonates with our experiences. As humans, we're programmed to get that from stories. We can see ourselves in stories, so they feel more relevant than mere information sharing or corporate directives. Stories help us feel empathy. We want to read them, hear them and share them because they help model a way forward.
Integrity and Sensitivity Must Guide You
There is likely no shortage of authentic, inspiring stories among the human beings that make up your workforce. But it's not sufficient to simply seek out and tell powerful human stories to serve your organization's goals. Diversity & inclusion communications must never be self-serving or exploitative, rather, empathy and respect should always be the goal. Internal communicators and D&I team members have an enormous responsibility to uphold this as their "True North." If you plan to use storytelling as a way to reach employees around D&I initiatives, here are a few ways to honor that responsibility to ensure the utmost integrity and sensitivity in your approach:
Hold story-mining sessions with specific ERGs across geographies and cultures. These can be group sessions or conducted anonymously through digital channels – you must decide the appropriate climate for your organization.
Moderators/facilitators should attend cultural sensitivity training – research your local resources. Consider this type of training for anyone who contributes to your D&I communications efforts.
Develop and engage a steering committee made up of employee/ERG volunteers that will help guide story development to ensure all appropriate sensitivities and perspectives are incorporated.
Whatever your ultimate story medium, consider representing stories through characters (actors) and thematic experiences versus highly specific individual scenarios. Employees should feel safe to share their stories and contribute to the larger conversation without fear. Always provide the option of anonymity.
Contact Meg Marra or Katherine Coble to learn more about Borshoff's approach to diversity & inclusion communications, as well as the other focus areas of our Employee Engagement & Communications practice.