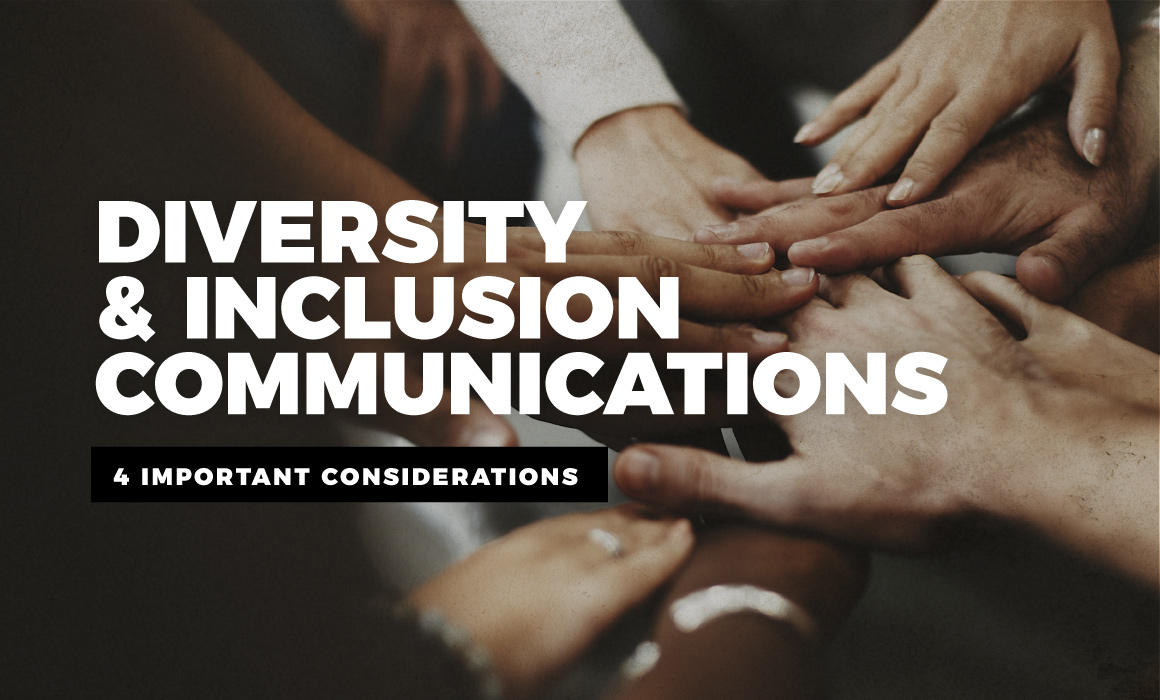 2

minute read
Today, virtually every company large or small has a stated commitment to diversity and inclusion. Certain activities that support D&I can be fairly straightforward, and many organizations start with an external approach – focusing on talent recruitment and hiring. But things grow more complex when companies work to implement an overarching strategic approach into their culture – which they should, if they want to create impact and achieve meaningful outcomes. Here are four important initial considerations that can help D&I communications start on the right path.
1) Start with an inside out strategy 
Smart companies know that the employee experience must match their stated commitments first, before operationalizing new external D&I efforts. Take the time to understand – ideally through research – the common/universal underlying experiences of your organizations' minority populations, taking into consideration how those experiences differ among geographies and cultures. Consult employee resource groups or establish ERGs if you don't have them already. Work to address gaps to improve how your internal culture aligns with the external brand and employee value proposition.
2) Remember these distinctions  
Diversity is about the people who make up your workforce, but inclusiveness is about work environment.
Culture is "values in action." As your diverse organization grows, so too grows the importance of an intentional culture of trust, connection, and psychological safety. These are some "cultural cornerstones" of any inclusive organization. 
3) Without authenticity, there is no connection
The concept of connection is especially important to successful D&I communications. Finding the universal truths and emotions that connect all people is essential for achieving sustainable and meaningful outcomes. And since diversity topics are very personal and often wrapped in emotion, organizations cannot shy away from having specific, authentic conversations that may expose hard, uncomfortable truths.
4) Without connection, there is no empathy
Empathy is a common – and appropriate – goal of many D&I programs. But traditional, one-way information-sharing and top-down directives are not effective in helping people develop empathy: you must connect on a human level. Effective ways to achieve meaningful connections are to tell candid stories, communicate in a personalized way, and equip managers to model.
Contact us to learn more about Borshoff's approach to Diversity & Inclusion communications, as well as the other focus areas of our Employee Engagement & Communications practice.