3

minute read
The work we do is social. Maybe composing symphonies or painting a masterpiece is different. But the marketing creative process is collaborative — there's no solitary genius holed up in a room, churning out brilliance all by him – or herself.
At our best, we lean on each other … a lot. We seek out critique, relying on the opinions and insights of our trusted colleagues – opening ourselves fully to this process. That's not always easy, of course. But we've all worked hard to earn a position in which we're paid to create, and we understand that making our next project better than the last one depends a lot more on partnership and chemistry than on individual talent.
That's why I've always loved having a creative team together in one space. I love the energy of everyone sketching, scribbling, talking, arguing, laughing and collaborating on ideas — sometimes relevant, sometimes not. I love all of us sharing experiences throughout the day – seeing the same things, hearing the same sounds, and even smelling the same smells. I love my team making fun of my bizarre ideas, right in front of my face.
But that's not the order of business in 2020.
Nowadays technology keeps us connected. Zoom and Microsoft Teams are now critical substitutes for those in-person gatherings. And, occasional glitches aside, it does work — we still bounce our ideas off our team in hopes they'll make them better, or maybe even turn one of them into gold. We still read the expressions of our teammates and carefully gauge their tone of voice – revealing when something is clicking and when it isn't. The main difference is that now, when I propose something ridiculous, instead of a snarky spoken quip I'll get a perfectly selected GIF. And instead of trying to save a mental image of my team all together, I can just take a screenshot.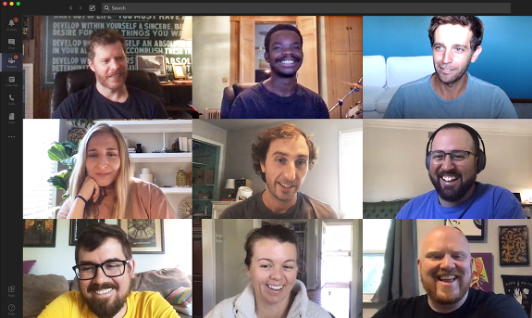 Now the milestones in our projects — the kickoffs, the check-ins, the presentations, etc. — are marked by activating a camera or un-clicking the mute button. (Very important to remember.) And the bright side is that we're lucky enough to see our friends at work each day – without masks – observing every joyful grin, crinkled wince and increasingly unruly beard
Despite the upheaval in where we work, not much has actually changed. And though creatives don't love unexpected curve balls, we've never skipped a beat. Thanks to the critical forethought and planning of our leadership – working remotely has been a seamless transition. As the cliché goes, we're still "firing on all cylinders," doing great work for our clients, just like always. In fact, some of my favorite projects have been produced during these past few months.
I do still miss the office, of course. But I'm extraordinarily thankful to continue to do meaningful work with a team that is driven, smart and super-talented. In a time of constant caution and pervasive weirdness, I'm happy to report that collaboration is as healthy as ever.
Check out some of our latest work here .