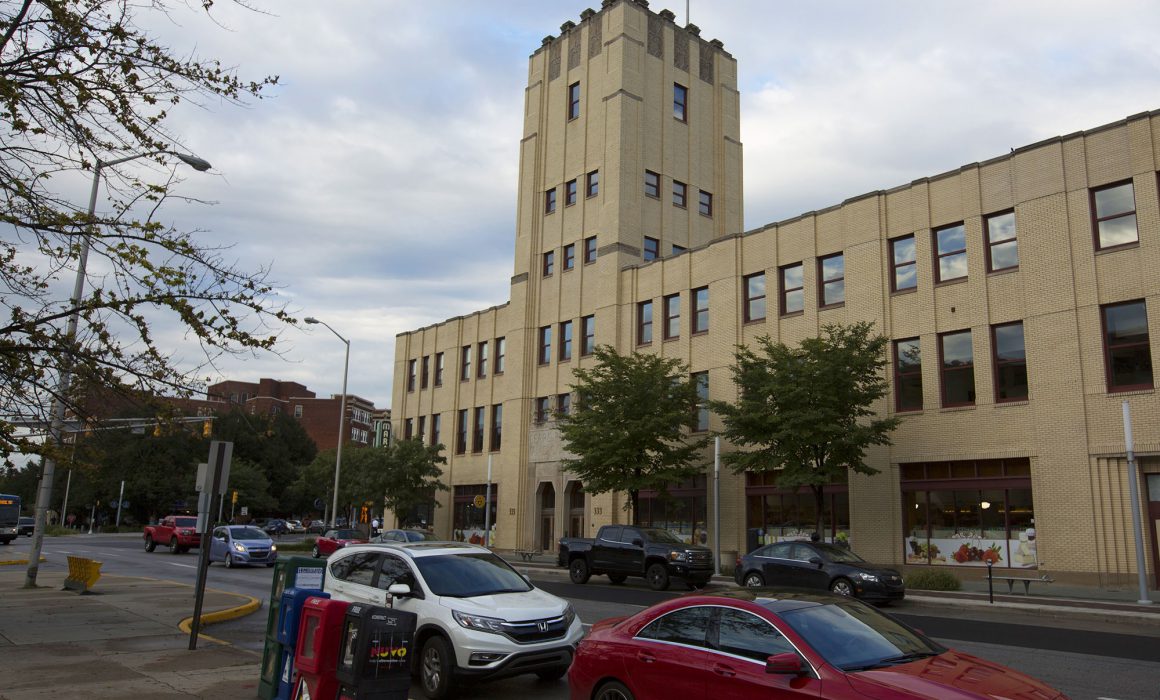 3

minute read
When long-time Borshoff managing principal Susan Matthews announced she'd be retiring in the summer of 2015, we started thinking about our next chapter.
Borshoff's Next Chapter
Matthews was the third of our first three owners, along with Erik Johnson and founder Myra Borshoff, to retire. Her departure, and the fact that our office lease was set to expire in early 2017, inspired the new ownership team – Jennifer Berry, Katherine Coble, Jennifer Young Dzwonar and me – to evaluate our work environment and explore new possibilities to meet our evolving needs.
We started by partnering with DORIS Research to analyze our workspace, currently spread over the fourth, fifth floors and half of the sixth of the Majestic Building, 47 S. Pennsylvania St., Indianapolis. The DORIS team observed how people moved, worked and interacted in the office.
Including staff in the process was key. We always tell our clients that it's important to the culture to involve your employees with any major initiative. We genuinely wanted our staff to tell us what they needed and to help create a space that would inspire them and better reflect the way we work.
The DORIS team learned that our ideal work environment is an open floor plan with lots of options –quiet offices, collaborative spaces and formal meeting areas. They also learned that our staff craves natural light, exercise and green spaces, as well as a large, eat-in-kitchen where we can socialize and spend time with one another. When we received the findings report, the four of us said, "We need to move."
Majestic offices
Borshoff relocated to the fifth floor of the Majestic Building in 1998. The location has served us well, allowing us to expand as we grew. But by 2016, the creative team and project managers were located on four, account managers were on five and the administrative team was on six. In our line of work, we need teams to collaborate with each other and clients, and our current office isn't conducive to that.
Our search for new office space began in the summer of 2016. After three months, we'd narrowed it down to two finalists, both inside a four-block radius of the Majestic. We love our location, so staying downtown was a priority. But similar to a plot twist in a house hunting show, Borshoff's broker, Mike Semler, Cushman & Wakefield, asked us to look at just one more space.
When we strolled over to Lockerbie Marketplace, 333 N. Alabama, you could feel "a vibe." Located on the Cultural Trail steps away from the 300 and 400 blocks of Massachusetts Ave., the former Sears Roebuck building is abuzz with activity. After touring numerous downtown high rises, we fell in love with the panoramic views from the third floor of Lockerbie Marketplace. It has such a unique view of downtown, offering a human lens to many historic landmarks in the arts and cultural district.
The location was outside of the original search area but fit our desire to be close to clients and high-energy gathering spaces. Proximity to Georgia Street, Monument Circle, and Mass Ave. is not coincidental, it's key to who we are.
333 N. Alabama
Our architect, Rod Collier of Rottmann Collier, was involved in the process since the beginning of DORIS' research and created an office space that checks every one of our wants and needs. The brightly lit space removes the physical barriers, offers plenty of quiet areas and meeting spaces, and features state-of-the-art collaborative technology and a first-rate video editing bay. A large café is in the heart of it all. Plus it offers amenities we don't currently have, like free parking for clients.
It's an office environment where people can constantly grow and share. It's going to inspire our team and our work and be a pivot point for our future growth. We are so excited to get settled and are looking forward to entertaining our clients in the new space. Later this fall we plan to host an open house for our new neighbors and old friends.
If you think our office looks cool, check out the work we do there.